It is quite reasonable to protect important Excel workbook with a password. This will dramatically reduce the risk of data leaks. When you try to open a password-protected Excel spreadsheet, it is mandatory to input the correct password to unlock the file.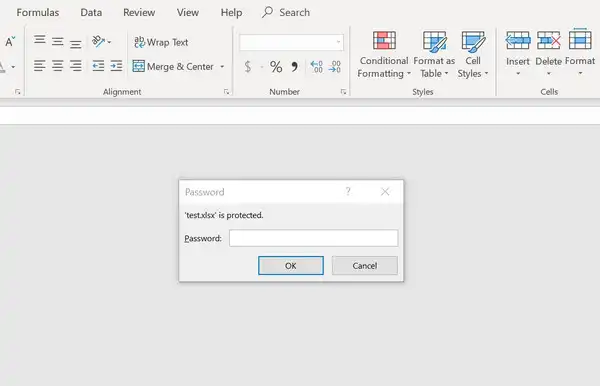 However, if the password was strong enough and it had been a long time before opening the Excel file, then forgetting the password is inevitable. Even this happened, there is no need to worry about as this guide will help you easily recover lost or forgotten Excel password. The fact is that there are dozens of free and paid Excel recovery tools available. And most of them do not support the latest Excel versions. So we have shortlisted the top 5 free ways to recover open password from Excel file. You can give a try on those tools based on your personal choice.
Method 1: PassGeeker Excel Password Recovery
Method 2: Lossmypass Online Excel Password Recovery
Method 3. Remove-Password Online Tool
Method 4: PassCue Excel Password Recovery
Method 5: Free Excel Password Recovery

Method 1: Recover Excel Password Using PassGeeker Software
PassGeeker Excel Password Recovery is currently the No.1 solution to recover password from Excel file. There are two prominent advantages from it. One is the excellent support for new Excel versions, including Excel 2019, 2016, 2013. For comparison, other similiar tools can only support Excel files lower than 2010. Another benefit is the fast password cracking speed. This wil save you a lot of time. In addition, it consumes less computing resources so you can use the device along with the password recovery task.
Download Now
Download Now
Step 1: PassGeeker Excel Password Recovery from the official website; then complete the installation process and then run the tool.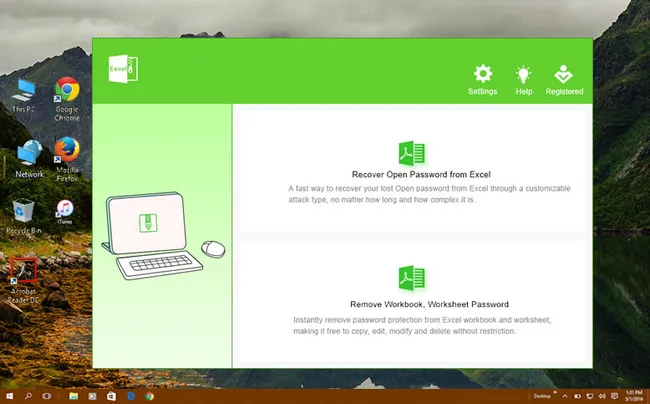 Step 2: At the opening screen, select on "Recover Open Password from Excel". Now, click on the "Add File" button to load password-protected Excel file from local drive.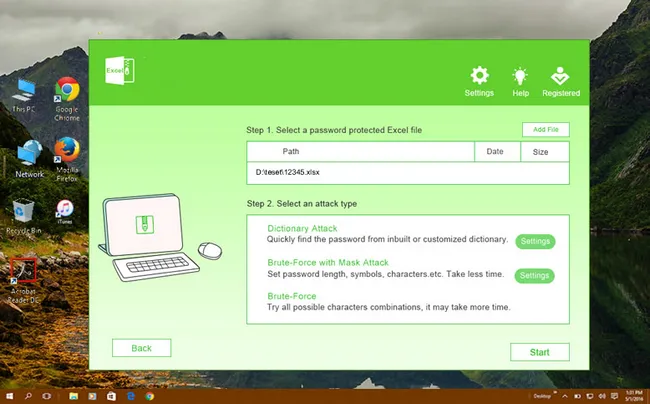 Step 3: You have to pick up password cracking engine in this step. In default, we recommend using Brute-force with Mask Attack as it is more efficient. Now, click the Settings tab at the right side and fill the blank fields as many as possible.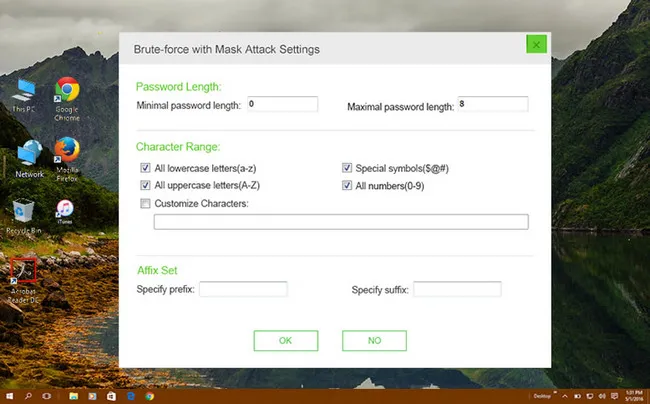 Step 4: Click the OK button to let the program start recovering forgotten password from imported Excel file. For simple password, you only need to wait for a few minutes. But for strong password, you have to wait more time. When the password was cracked, you will see it on the screen.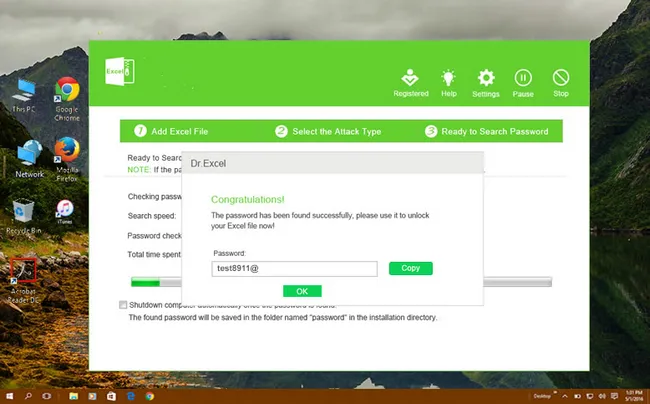 Note: You can also use the second option "Remove Workbook, Worksheet Password" to instantly remove protection from worksheet. You don't need to wait any time. After that, all restrictions being applied to the sheet will be lifted.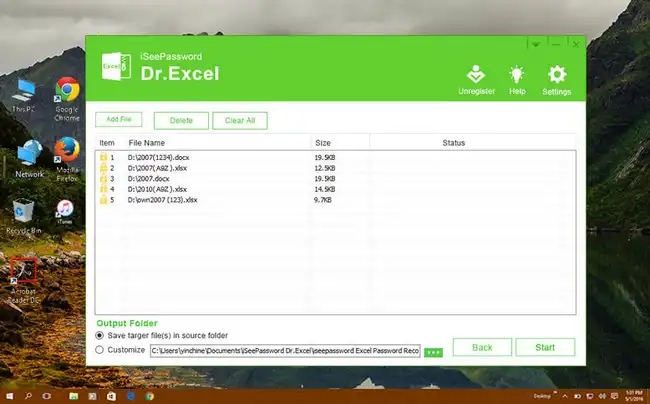 PassGeeker Excel Password Recovery is designed to recover password from excel files without losing any data. It has a nice UI and easy-to-follow instrcutions, making it one of the best programs for recovering lost or forgotten Excel password.
Method 2: Recover Forgotten Excel Password via LostMyPass
LossMyPass is a multi-purpose online password recovery service that is able to recover password from Excel, Word, PDF, Zip and RAR. The best part is that it has more than 3 millions of simple password database and more than 20 billions of complex password database. The password will be found once it is matched the entry of its internal database. However, it is not totally free. You have to pay at least $49 for complex password.
Step 1: Go to homepage of LostMyPass website and click FILE TYPES menu to locate "MS Office Excel".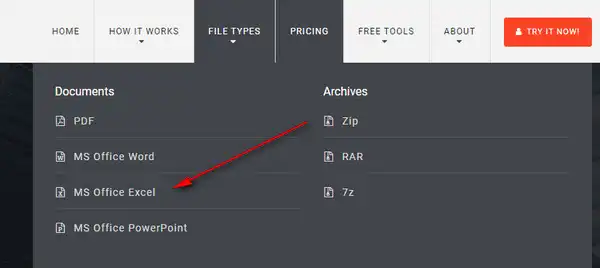 Step 2: Check the box "I'm not a robot" and anwser the verification question. After that, it will show an option to upload a file, just click on that. And the maximum file size is 100MB.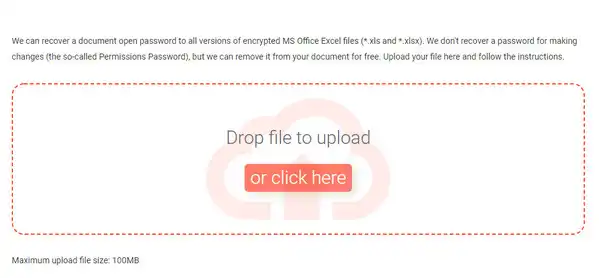 Step 3: After uploading, it will start scanning the password with weak combinations, like 123456, abcd, etc... And this is free. If the password was not found in this stage, it will go to next step.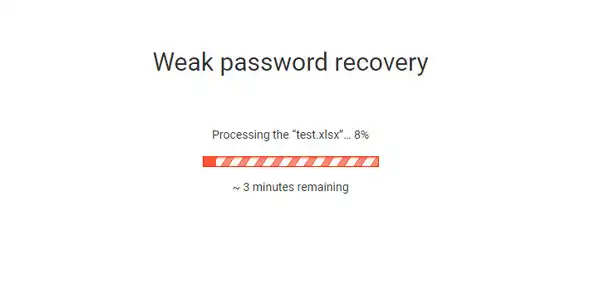 Step 4: If your Excel file is encrypted with a complex password, it will ask you to input an Email address and register on the website. You have to make a payment to start the advanced password recovery process and wait for the result. Once the password is found, it will send you Email notification containing the recovered password.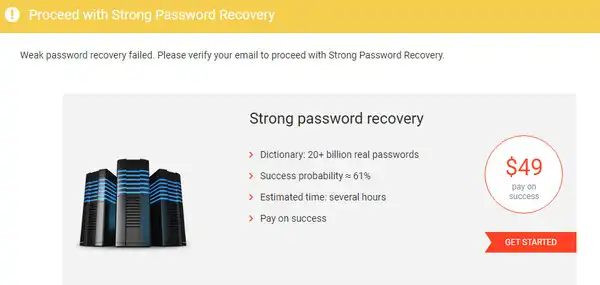 This is a quick way to recover your lost password for excel files. It will start checking with a simple password and it is free. However, you have to buy its premium service if the weak password engine could not find the correct password from uploaded file. Another issue you should be aware of is that even if the password was recovered, you might face the privacy issue as it is also able to open the file and a copy is saved on the server.
Method 3: Recover Excel Password via Remove-Password.com
Remove-Password.com is a small website dedicated to password recovery. The procedure is almost the same as LossMyPass but this website does not have such a huge dabase, meaning you have to wait more time for the same type of password. Currently, it supports six types of files, including Word, Excel, Zip, RAR, PDF and Access. So you can give a try on this online tool to recover Excel password.
Step 1: Go to the official site of "Remove Password Online Recovery" tool. Here, you will get a button to upload your password encrypted excel file, just click on the "Choose File" button.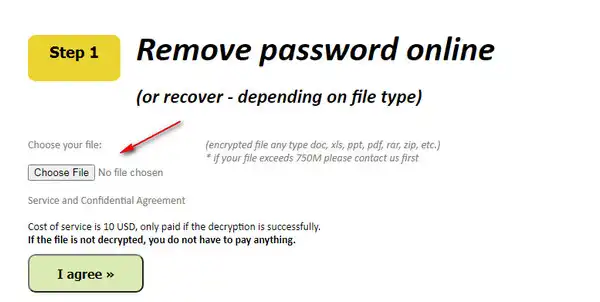 Step 2: After selecting the encrypted file, accept the terms and conditions by clicking on the "I Agree" button.
Step 3: In the next step, it will ask you to enter the password hints if you remember anything. This will make the task easier.
Step 4: After that, you should input your email ID. Now, go to your mailbox and activate the account by clicking on the given verification link. In the same mail, click the second link to see the status of encrypted documents.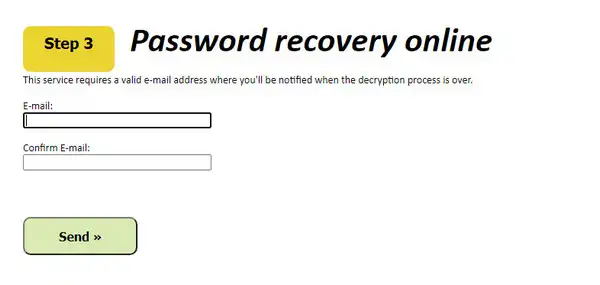 Step 5: If the password is complex, it might take a longer time to recover. Else you can check the status after a few minutes. Just allow the system to check the correct key and then you will get the recovered excel file from password.
The process is easy but takes time to get the result in the free version. If you want a faster password recovery option, then you can go with the premium version of this online Excel password recovery tool.
Method 4: Recover Forgotten Password from Excel with PassCue Software
PassCue for Excel is another popular desktop software for recovering Excel password. It offer three different algorithms to crack Excel password. This password recovery application is eligible to break any combination of password in less time.
Step 1: To access the tool, first you need to download the PassCue for Excel setup from the official website.
Step 2: After that run the .exe file and install it on PC. And then open the PassCue dashboard. Inside the tool, it will show you two options; just click on the "Recover Excel Open Password". You can also choose the second option as per your requirements.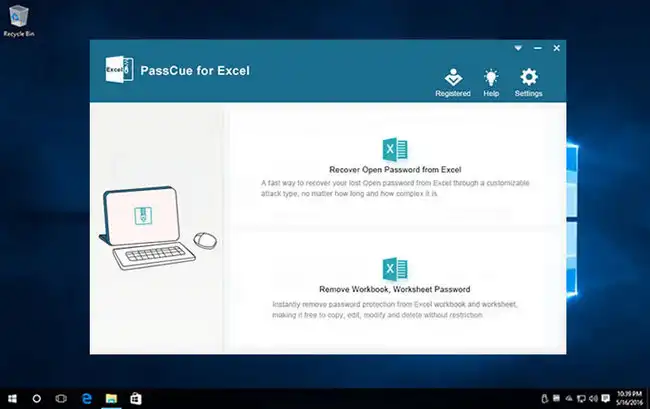 Step 3: It will ask you to import your encrypted file. Just click on the "Add File" symbol to upload the file.
Step 4: As soon as the selected file will be uploaded, it will ask you to choose the attacks type from the 3 given options; Dictionary Attack, Brute Force with Mask Attack, Brute Force Attack. We would recommend you to go with all the options one by one in separate execution.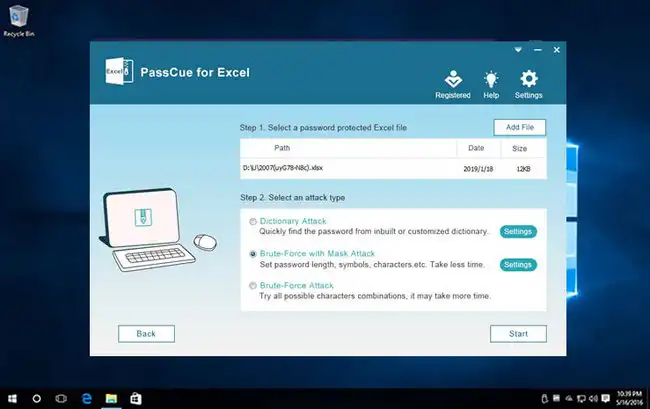 Step 5: Now click on the Recover button to allow the software for finding the password. Furhter, allow some times to the system to find the exact password. You can see the status at the below panel in the same screen. When the process is completed, it will show you the exact password. Just click on the Copy option and save it for your future references.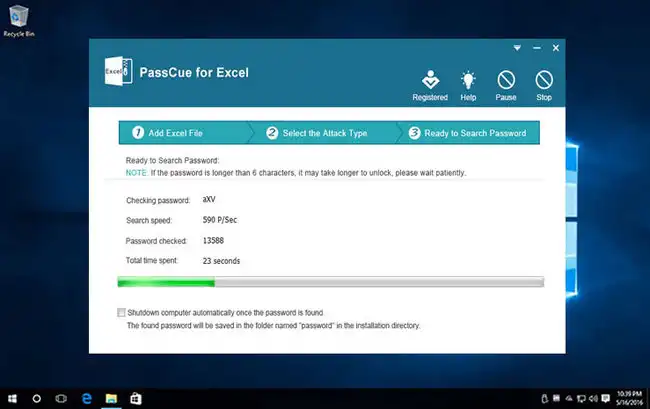 It is capable to unlock the file which are encrypted with 128-bit AES encryption as well. PassCue for Excel is not completely free but you can use it's trial version to recover simple password.
Method 5: Recover Excel Password via Free Excel Password Recovery
This is another effective online password cracker tool which can break strong Excel password by applying the Dictionary, Brute-Force with Mask Attack and Brute Force Attack decryption methods.
Step 1: Download the Free Excel Password Recovery tool. Now, unzip the downloaded file with the help of 7-Zi[ or another unzip tool. After that, run the installation setup file and follow the on-screen instructions to complete the process.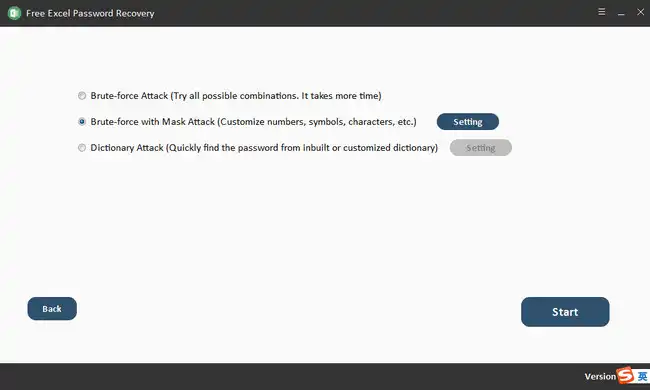 Step 2: Now, open the tool and click on the Browse button to import encrypted Excel file. Further, you need to select the type of attacks like a Dictionary or others.
Step 3: After finishing the basic settings, finally, click on the Next button to start the password recovery task. Now you have to wait for the result returned by the program. It could be hours, days or weeks and this is largely based on how complex the password is.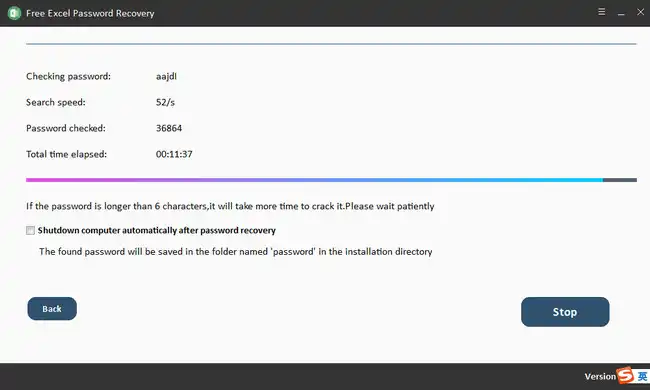 There are some limitations in free version of this tool. But you can remove all the restriction by buying it at $30 with life-time validity. This is the best option for single person use if you regularly need to recover excel passwords at your work.
Summary
From the above 5 best ways to recover forgotten password from Excel file, you can choose anyone as per your requirements. However, we would recommend you to go with the first method i.e.PassGeeker Excel Password Recovery because this is the easiest tool and has multiple features to decrypt the passwords. The second method is also convenient but it is limited for free trials. If you want to recover Excel password without downloading any tools, then must go with the second and third methods. The last method is also quite useful if you want the help of such tools regularly.