Microsoft Excel is the most popular tool for keeping your data organized, but most importantly it provides users with the ability to password-protect Excel files. This is one of our favorite features as it protects our personal data from prying eyes and prevents unauthorized viewing and modification. If you are one of those who are locked out of a Excel file, then don't worry.
In reality, there are tons of software and tools that allow you to crack Excel password. However, be cautious as there are a lot of scams out there. Falling for such services, you end up losing your money and your precious files. In this article, we are going to introduce some of the best Excel password crackers, so you can find out which one is right for you.
Method 1: How to Crack Excel Password Using PassGeeker for Excel
Cracking Excel password is an ancient topic and you could find numerous recommendations from websites and blogs. Honestly speaking, there are few software that support the latest Excel 2016/2019. Even among the capable ones, the password cracking speed is extremely low due to inefficient algorithms. But PassGeek Excel Password Cracker is an exception. There are major advantages about this software:
Update to Date Cracking Alogorithms: There are at least 3 different encryption algorithms applied to Excel app and PassGeeker supports all of them. From the old Excel 2003 to Excel 2013 to the latest 2019. Basically, you can use this software to crack Excel password for all versions without limitation. Both .xls and .xlsx are well supported. Built-in password cracking engines includes dictionary attack, brute-force attack and brute-force with mask attack.
Easy to Use Interface: Unlike most of the free tools, PassGeeker Excel Password Cracker is built-on the top of native UI element shipped with Windows 10. It is packed by a gorgeous user interface and has all the on-screen details for illustration.
Download Now
Download Now
Step 1: You can download and install PassGeeker Excel Password Cracker from from this page (the free trial is fully functional). Launch Excel Password Cracker on your computer and then select "Recover Open Password from Excel" from the main UI.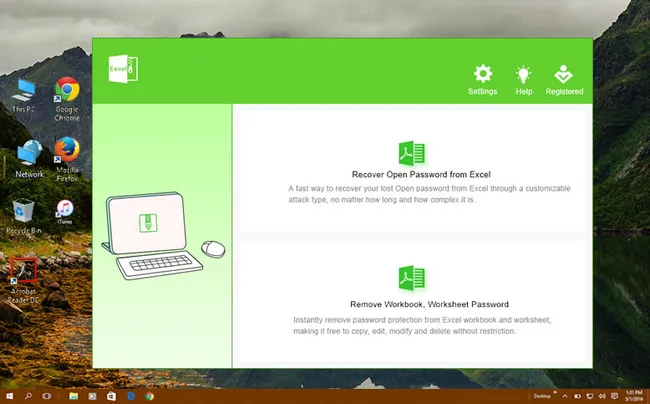 Step 2: Click Add File button to load Excel file you wish to recover the password for and then select the attack mode (you will be presented with three attack options, including Dictionary Attack, Brute-Force with Mask Attack, and Brute-Force Attack).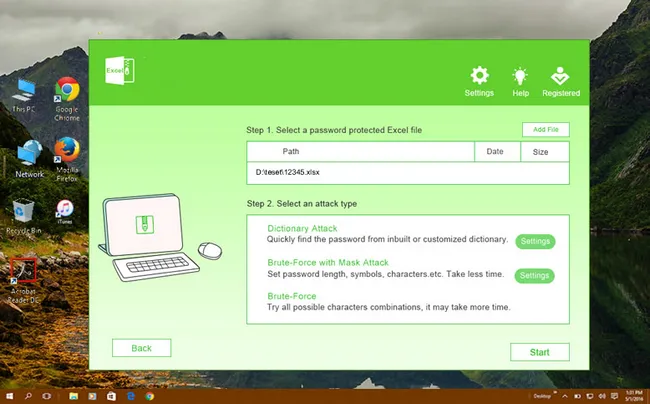 Step 3: If you chose Brute-force with Mask Attack (Recommended), then you should make additional settings to accelerate the password cracking process, such as password length, character range, etc... The following snapshot is a good example.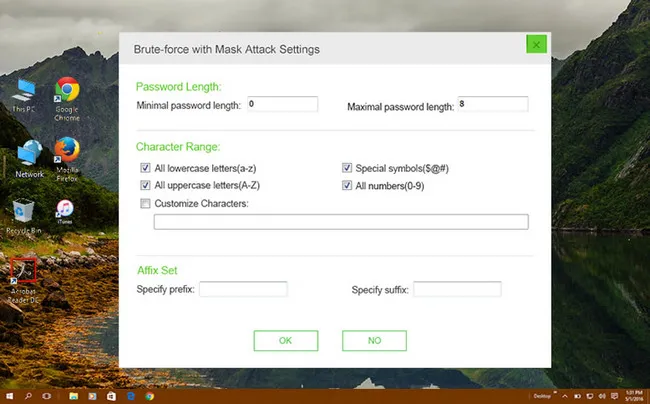 Step 4: Hit the OK button to start cracking Excel password. The process takes a while if the password is short. Once it is done, you can see the newly-recovered password in a small dialogue box.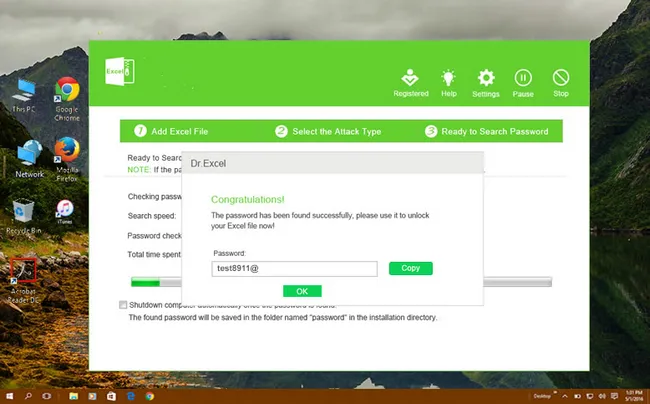 In short, PassGeeker Excel Password Cracker is a great tool for recovering Excel password, as it is fast, cheap, and has good customer support. However, some advanced features are locked behind the Pro version that costs you $30 for a lifetime license.
Download Now
Download Now
Method 2: Crack Excel Password with Password Recovery Wizard
This is one of the best free Excel password cracking tools you can find right now on the market. As the name implies, the tool lets you reset or crack Excel password at no cost for Excel 2003 to 2010. The best part about Excel Password Recovery Wizard is that it supports all Office versions and platforms, and features an intuitive user interface. However, it is not totally free.
Step 1: To install the software, unzip the downloaded file and run the installer. This will install the software and then launch it on your computer.
Step 2: Once you have it installed on your machine, open it and then select the Excel file you wish to crack the password for. Now, select an attack mode. We recommend you use Brute Force attack mode, as it and guarantees a high rate of success.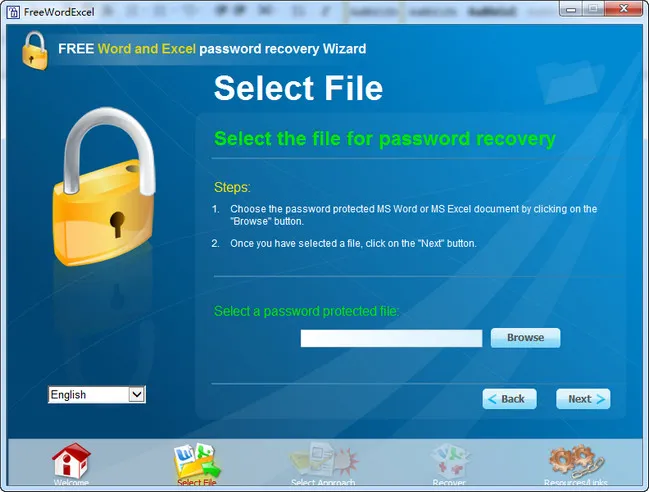 Step 3: Once you are done, the tool will start recovering Excel password. If you have a long password with special characters, the process may take a long time.
Free Word Excel Password Recovery Wizard is an useful tool for any user out there, as it is fast, free, and easy-to-use. However, it has its own drawbacks. One such drawback is that it takes a long time to crack a long password.
Method 3: How to Crack Excel Password with Online Password Cracker
If you don't want to install some kind of third-party tool on your computer, then try an online password cracking tool. One of the best things about an online tool is that it is fast, easy-to-use, and does not require an installation. In this case, we recommend you use password-find.com. One major drawback is that most online tools won't support large files, and password-find is no different. Indeed, the tool does not support files larger than 10MB. If your document exceeds the size limit, try using a different tool.
Step 1: Open a web browser and head over to this link.
Step 2: Once you are in, click on "Browse" and add the password-protected Excel file you wish to crack the password for.
Step 3: Click Next and the tool will start cracking the password for your file. Once done, download it to your computer.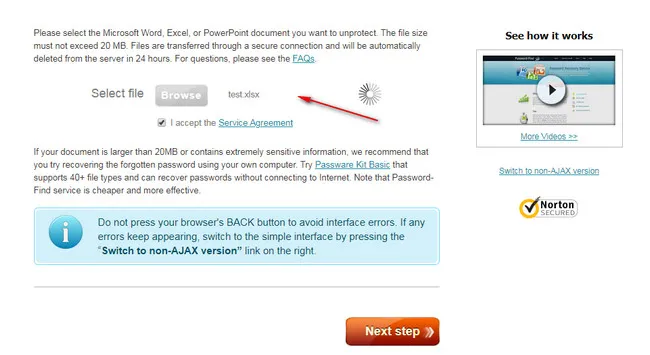 Using an online Excel password cracker is convenient for those who don't want to install an additional software or program on their device. However, you are warned that this could bring up a severe issue. Your private data is under threat. If the password was cracked successfully, a local copy is kept on the remote server. This means others can view the content in that Excel worksheet.
Method 4: Crack Excel Password with MS Excel Password Recovery Master
If you are in the market for a third-party password recovery tool, then give MS Excel Password Recovery Master a try. In reality, the tool allows you to crack all types of Excel passwords at no cost. In addition, this tool supports multiple languages, including German, French, Spanish, Russian, and English. The user interface is simple and very easy-to-use. Indeed, you can find anything from its main UI at first glance.
One thing to be noted is that this excel password cracker includes a premium subscription for more advanced features, including the ability to crack long passwords with special characters.
Step 1: When you have the tool installed on your machine, open it and then click "Open" tab to locate the Excel file you want to recover the password for.
Step 2: Click the "Crack" button next to the document name and then the tool will start cracking excel password. Tthe process may take a few hours to several days, which really depends on how strong the password is.
Step 3: You can also remove protection of individual worksheets. To do this, hit the spreadsheet icon and you should a list of all sheets in your Excel document. Now, just select the sheet you wish to unlock the sheet for and hit the "Crack" button.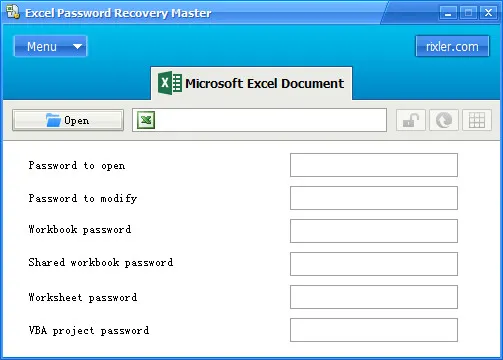 In short, MS Excel Password Recovery Master is a solid choice for any user out there. It is fast, free, and easy-to-use.
The Bottom Line
If you are looking for the best Excel password cracking tool, then you have come to the right place. All the Excel password cracker software suggested in this post have good reputation and higher success rate. So you do not need to try out the others solutions because it is complete waste of time. Give a try on the list and you will be able to open the password protected Excel for sure.