PDF is widely used in digital publication industry and important PDF documents being shared between companies are usually protected by either a open password or restriction password. This kind of protection is an secure way to prevent unauthorized access. However, we all have moments when our thoughts go blank and forgot PDF password. We try the regular used passwords to open password protected PDF documents but nothing seems to work. Thankfully below mentioned are four software that can do a great help in recovering PDF password easily.
Method 1: Recover PDF Password Using John the Ripper
Method 2: Easily Recover PDF Password Using PassGeeker Tool
Method 3: Recover PDF Password with PDFCrypt
Method 4: Use PDFCrack Tool to Recover Password from PDF File

Method 1: Recover PDF Password Using John the Ripper
John the Ripper is a free PDF password recovery utility developed by Openwall. One of the most prominent features is the cross-platform support, which can run directly on Windows, macOS, Linux and Unix. And the password cracking speed is fast, making its a popular solution to recover PDF password. In the primary stage, this software was developed for Linux operating systems but as it starts gaining popularity, it was made available for other operating systems. The best feature of this software is that it combines several password crackers in one package. It also auto-detects password hash types apart from including customizable cracker. John the Ripper ALSO supports all encryption algorithms and uses a dictionary-based password recovery method. Follow the steps below to recover forgotten password from PDF file.
Step 1: Open your browser and visit the custom builds page to install the jumbo edition of John the Ripper. In this example, we will use it on a Linux machine. And this is slightly different on Windows.
Step 2: Now open Terminal app on your computer and type this commnad to generate a hash file from target PDF file.
./pdf2john.pl test.pdf > pdf.hash
Step 3: The above command will extract password hash from the protected PDF file. The software will now start cracking the password after getting the hash file. It will use the default wordlist of the library:
/john pdf.hash ?Cwordlist wordlists.txt
Step 4: Now sit back and relax, let the program run in the background as it might take some time to recover PDF password. You can check the progress at an interval of 10-15 minutes. If the password is complex then it might take a long time to recover it. Once done you can see the password on the program window.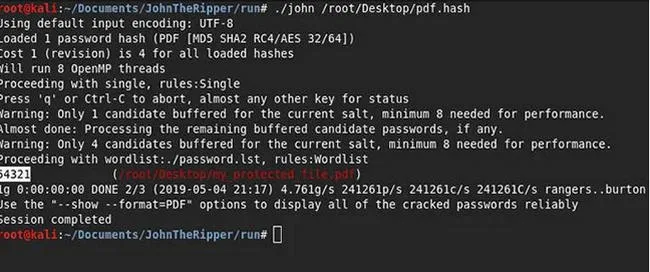 This software has a good conversion rate but sucks when it comes to recovery time. Besides if your system configuration is old then it will cause lag on your computer and might crash sometimes. However, there is no loss for trying it first. If it does not work as expected or had some error, please use the Method 2 to recover password from PDF document instead.
Pros:
* Able to crack different types of password, including PDF.


* Work on Windows, Linux, macOS nad Unit.


* Built-in wordlist.


* Free of use.


Cons:
* Can not import PDF file directly.


* Need to extract PDF has first.


* Spend time to learn how command parameter works.


Method 2: Recover PDF Password Using PassGeeker Tool
PassGeeker for PDF is an effective password recovery software when it comes to recovering forgotten PDF password. Apart from PDF open password recovery, this software also instantly removes PDF restrictions like copying, editing, and printing. With the help of three configurable attacks (Brute force attack, Brute Force with Mask Attack and Dictionary Attack), it becomes quite easily to crack password from locked PDF document.
In addition to recover PDF open password, PassGeeker for PDF is capable of unlocking multiple PDF files at one time with the help of its batch removal feature. This saves you the trouble of uploading each file individually. You can also start from the last search when the program is closed by keeping a log file at an interval of five minutes.
Download Now
Download Mac
Step 1: Download and install PassGeeker for PDF on your computer. After installation is completed, launch the software. When the program window pops up you will see two options "Recover Open Password from PDF" and "Remove Owner Password from PDF". First, let's discuss "Recover Open Password from PDF" option.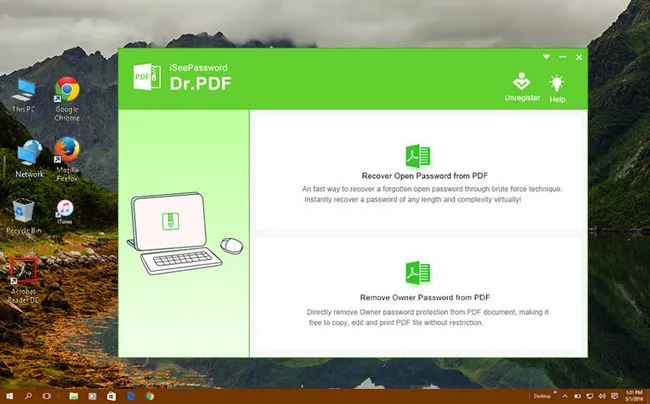 Step 2: When the new window is opened, you have to click on the "Add File" tab to import the password-protected (Encrypted) PDF document.
Step 3: Select an attack type from dictionary attack, brute force attack and mask attack. You can see in the image below that we have selected the Mask Attack type. Click on the Settings tab next to the attack method you choose and enter some password information like length, small or capital letters, etc to fasten the recovery process.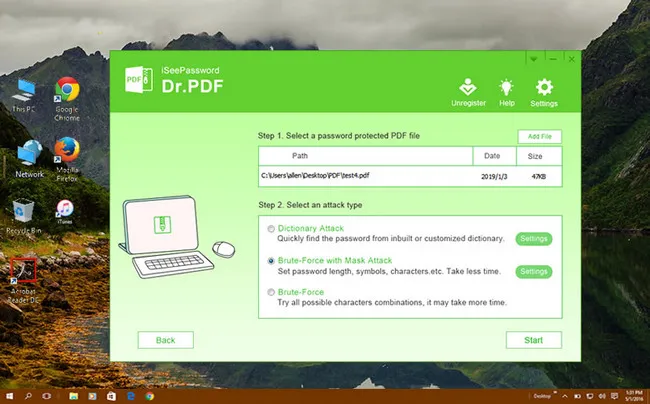 Dictionary Attack: A dictionary file is provided by the user which is imported on to the software. The software automatically searches the password from the dictionary file.
Brute Force Attack: This method tries all the possible combinations in a password. It can be time-consuming if you can't provide any information about your password.
Mask Attack: The most advanced cracking method. If you can provide any hint about the password like length, number, capital or small letter then use this method to recover your password instantly.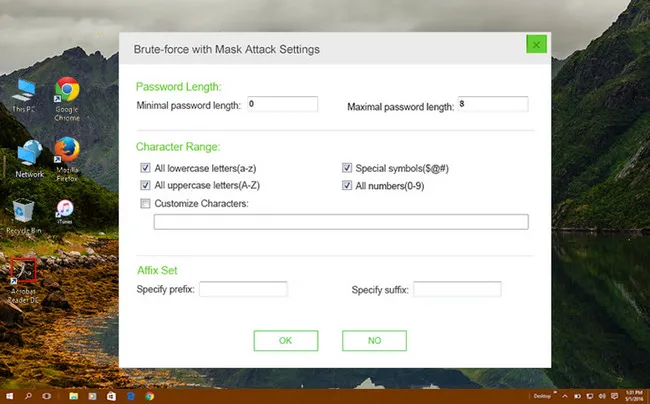 Step 4: Head for the settings tab to select the GPU acceleration according to your system configuration after selecting the password recovery method. If you choose the correct configuration, it will improve the recovery speed up to 10x. Multi-Core CPU processing is also supported by this software. You are all set, click on the "Start" tab to start the recovery process. After the process is completed you can see the recovered password on a pop-up box.
Now let's talk about the second option "Remove Owner Password from PDF". This feature is used if you don't remember the owner's password. After you have selected this option, click on the add button to import the locked PDF document. Specify the location (folder) where the file will be saved after it has done unlocking. Click on Start to start the password deletion process. That's it, the owner password will be removed instantly.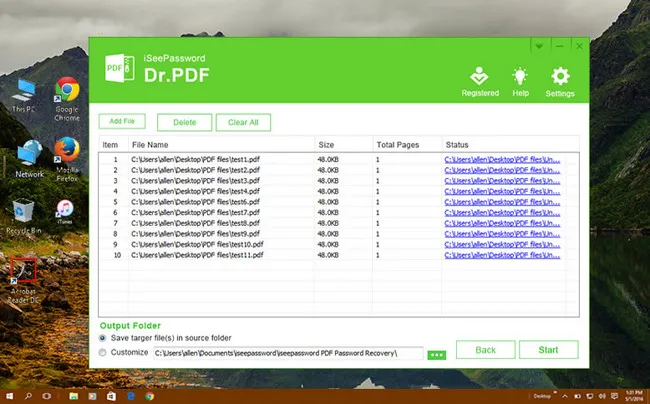 PassGeeker PDF Password Recovery is popular among users for cracking PDF password because of its smooth interface and amazing password recovery rate (90%+). It does the job with a few clicks of your mouse in a few minutes.
Download Now
Download Mac
Pros:
* User-friendly and intuitive GUI.


* 3 powerful PDF password cracking attacks.


* Fast password cracking speed.


* Unlock PDF from protected restrictions, such as copying, printing.


* Work well on Windows OS as well as macOS.


Cons:
* Trial version only crack short password (less than 3 characters).


* Not optimized for Dark Mode on Mac.


Method 3: Recover PDF Password with PDFCrypt
PDFCrypt is a command-line tool with the purpose to remove password protection from PDF files created by Adobe Acrobat. It supports the latest 128 bit AES and RC4 encryption algorithm. Another useful feature is to remove PDF open password. However, you should know the password first. And you have to import the locked PDF file and then this software will recover the password for you. Follow the steps below to recover PDF password by using this tool.
Step 1: Download PDFCrypt from RubyPDF website. After downloading extract the zip file and then install it on your computer. You can use any zip extracting software to do the job.
Step 2: Search 'cmd' in start menu and open Common Prompt utility on your computer..
Step 3: Now type the command given below to perform the task. abc.pdf is the original PDF with password. And new.pdf is the PDF file being unlocked by PDFCrypt. After the process is completed, your PDF document will unlock.
pdfcrypt abc.pdf new.pdf decrypt ""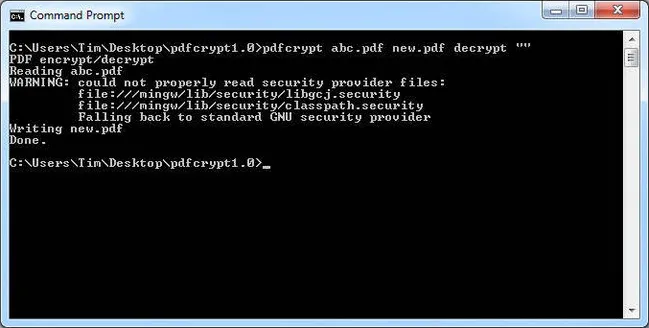 PDFCrypt Password Removal requires you to know a bit more about command prompt. If you typed a wrong command then this tool will not work. People who like graphical interface will be disappointed by this tool.
Pros:
* Support 48-bit, 128-bit and 256-bit AES encryption.


* Free software.


* Remove open and owner password from PDF.


Cons:
* Only work in Command Prompt.


* Need to know original password.


Method 4: Use PDFCrack Tool to Recover Password from PDF File
RubyPDF PDFCrack is an open-source application that can recover password from locked PDF files. It can recover both owner and user password. What's more, it also supports the standard security handler. Unfortunately, PDFCrack only works on Linux and Unix-alike operating systems in default. You have to download the protable version to make it working on Windows PC.
Step 1: Download pdfcrack-0.11.zip from here. Create a new folder for PDFCrack on local disk and extract the content from zip file to the new folder.
Step 2: Open Command Prompt app on Windows computer. Now drag and drop the locked PDF file for analysis.
Step 3: Hit Enter to start the password recovery process. If it finds the password, it will be displayed like this.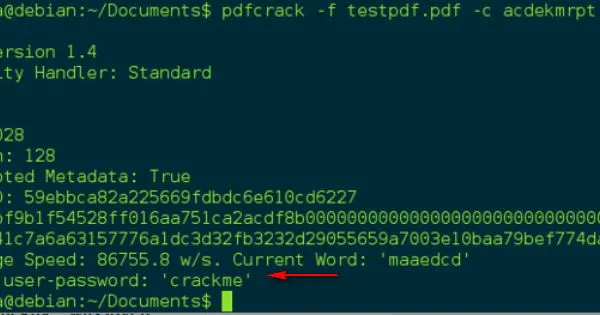 This process is a bit complicated for novice users who might find the user interface confusing. If you are familiar with the command prompt then this can be the right tool for you to recover password from protected PDF files.
Pros:
* Crack user password and owner password.


* Support Dictionary and Bruceforce attack.


* Shipped with benchmarking module.


Cons:
* Support Windows OS only.


* No mask attack available.


* Command only and no user interface.


Summary:
You can try any of the above-mentioned software to recover PDF password if you forgot it unfortunately. All of them have got their unique features and capabilities. But if you are looking for a fast and reliable solution then go for PassGeeker for PDF. It has a higher password recovery rate no matter how complex the password is. Both the owner password and open password can be cracked via this software. It uses three attack types to recover PDF password that makes this software unique from its competitors.