Some of the PDF files are password protected. When you are trying to access a protected PDF file, you will see a pop-up box asking for password. Below is a sample screenshot taking on a Mac: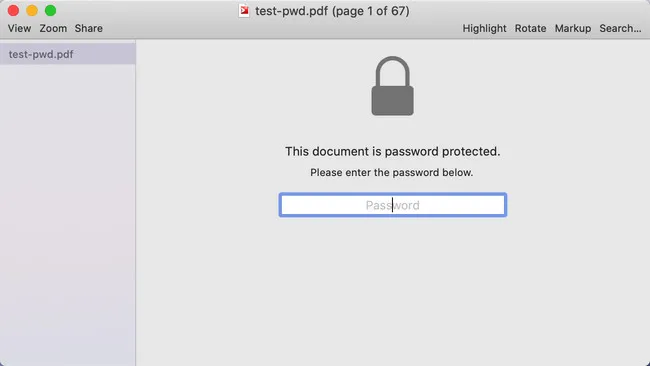 PDF security is an essential part of the business ecosystem where the bulk of digital information is disseminated or published using PDF (Portable Document Format) created by Adobe in 1993. Security features like password encryption keep the information from falling into the wrong hands, which could be disastrous in the case of sensitive or confidential data.
However, businesses also need tools to decrypt, bypass, or remove these PDF passwords when the need arises, or else the data might be lost forever. This article reviews five of the best PDF password recovery software applications for Mac that are used to decrypt and display PDF open password for a PDF document, which is the one that prevents unauthorized access and viewing. And removing PDF restriction (e.g. copy, edit, print) is not in the scope of this tutorial. You can refer to this guide for removing PDF restrictions on Mac if you really need it.
1 - PassGeeker PDF Password Recovery for Mac
2 - Hashcat PDF Password Recovery for Mac
3 - Eltima Recover PDF Password for Mac
4 - QPDF PDF Password Recovery for Mac
5 - LostMyPass Online PDF Password Recovery

1 - PassGeeker PDF Password Recovery for Mac
By far, the most powerful software in the PDF unlocker segment is PassGeeker PDF Password Recovery for Mac. Specifically designed to crack PDF open password and instantly remove permissions password from any PDF document, the tool is lightweight and easy to use. This is what makes it so popular among business users who regularly work with secure PDF files. For Open password recovery process, PassGeeker PDF Password Recovery utilizes three strong decryption methods - Brute Force, Brute Force with Mask, and Dictionary - to cover a wide range of use cases. It is fully compatible with all the latest versions of macOS and can break the strongest of AES algorithms with a very high success rate.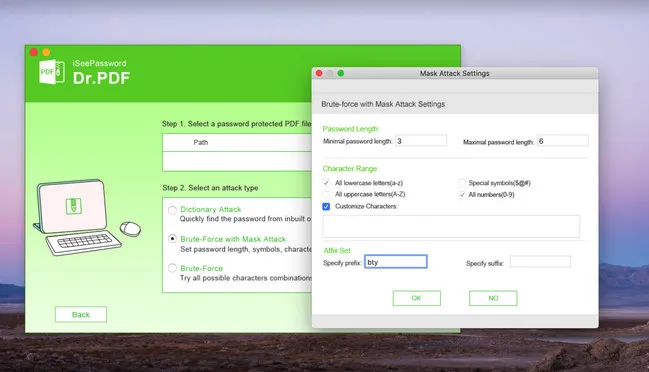 While password recovery is generally a slow and tedious process, PassGeeker PDF Password Recovery for Mac leverages the capabilities of the computer's hardware to increase the cracking speed by up to 10x. In addition, users can specify the extent of hardware acceleration based on the possible simplicity or complexity of the keyword; the utility supports multi-core CPU and GPU acceleration, with flexible options for the user to choose from.
One of the most appealing aspects of the software is the ease with which a new user can get accustomed to the interface and the operation of the software. At the same time, experts can take advantage of advanced settings and custom dictionaries or wordlists to enable the process to be executed even faster. As such, PassGeeker PDF Password Recovery for Machas very little real competition in the market even when you compare it with more mature premium and open-source PDF password cracking applications.
Download Mac
Pros:
* Support latest macOS such as Big Sur, Catalina, Mojave.


* Engaging UI with a near-zero learning curve.


* Built-in wordlists/dictionaries for commonly-used password combinations.


* Multiple attack methods to give more options for reducing processing time.


* Hardware acceleration with full multi-core CPU and GPU capabilities for 10x speed.


* Lightweight utility available for both Mac and Windows.


Cons:
* Free trial can only recover password less than 3 characters.


* Not support AMD and Intel graphics card.


2 - Hashcat PDF Password Recovery for Mac
Hashcat is a cross-platform utility that supports recovering password from various sources, including PDF, Excel, Word, Zip, RAR, etc... With multi-thread and hardware acceleration, it is one of the fastest PDF password recovery software on earth. Another great advantage of this full password recovery toolkit is that it supports more than one hundreds of password encryption algorithms, such as PDF 1.1 - 1.7, MD5, SHA1, SHA256, DES. Basically, you would never find such a powerful password cracking tool with som many features like Hashcat.

However, it is not easy to get started with Hashcat advanced password recovery tool because it is a pure command line based utility. This means it has no graphics user interface like PassGeeker software and you have to do a lot of additional work to make it finally working as promised. One of the most important step is to extract has value from encrypted PDF file. This can be done manually with third-party tools like John the Ripper or automated online service. After that, you can recover password from PDF file on Mac via Dictionary, Brute-force or Combination attacks.
Download Mac
Pros:
* Totally free.


* Powerful password recovery engines.


* Fastest password recovery speed.


* Support more than 100 hash algorithms.


* Support 50+ file types.


Cons:
* Very complicated command parameters.


* No buit-in wordlists.


* Has to extract hash from PDF manually.


* Sharp learning curve.


3 - Eltima Recover PDF Password for Mac
This premium tool offers the same types of attack modes as PassGeeker PDF Password Recovery but is laid out in a different way. The two main methods are Brute Force and Dictionary. Inside the Brute Force tab, you can choose 'Exhaustive search', which is essentially Brute Force. If you specify a password length, a template, or a charset, you're masking it to make it faster. One major advantage that Recover PDF Password offers is the ability to link several computers together in network of 'agents', which makes the recovery process even faster.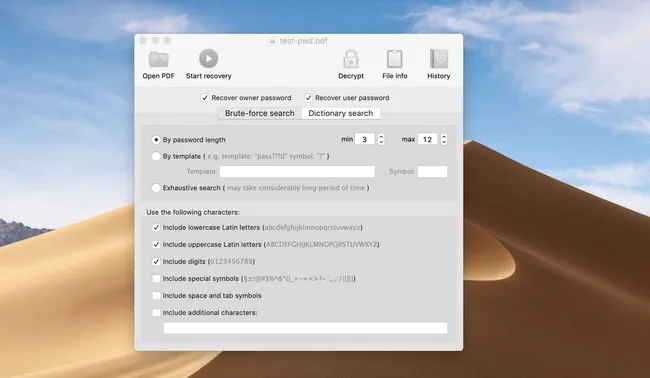 One of the drawbacks of this utility is that Brute Force can take a very long time. Additionally, there's only one default dictionary of possible passwords. If that doesn't contain your password, then Brute Force is the only option. Also, because there's no choice for hardware acceleration, Brute Force can take several hours or even days, especially if the open password is a long and complex one.
However, Eltima does offer some flexible licensing options to build the PDF password recovery feature into your own applications using an API or the source code. The biggest disadvantage is that there's no version for Mac, which means you will need to dual-boot Windows on your Mac in order to use the software. Since a lot of users tend to have VirtualBox or have set up dual-boot with Windows 10 on Mac, we've included it in this list.
Pros:
* Create a search network of multiple computers for faster password recovery.


* Easy-to-use interface.


* Access to source code or API where required.


Cons:
* No hardware acceleration.


* Not able to work on latest macOS Catalina (10.15).


* Network edition is expensive for individual users.


4 - QPDF PDF Password Recovery for Mac
Another versatile tool to recover PDF Open passwords is QPDF. It is an open-source tool that can be installed on a Mac using Homebrew. You can easily install Homebrew with a simple Terminal command, after which QPDF can be installed with another command. Although QPDF is essentially a PDF inspection tool, it also works with Open and Permissions passwords. However, if you don't already know PDF open password, the only thing you can do is to create a copy of the PDF without the password. The original document will remain as it is.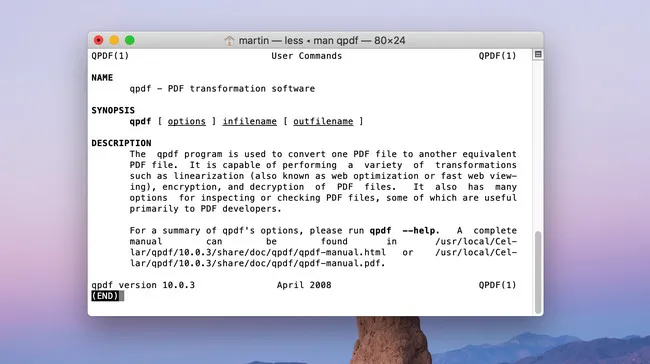 To be clear, QPDF is not a password cracking tool; it is more of an inspection utility for PDF documents. Of course, you can use it to remove a Permissions password very easily, but you won't be able to do the same for an Open password. In such cases, you'll need to run a command that creates an unencrypted copy of the original file. It's still useful in many cases, such as when an employee has left an organization and an important official document needs to be viewed by the company.
Download Mac
Pros:
* Open-source and free to use.


* Work with Mac via Homebrew installation.


* Simple syntax for the decryption command.


Cons:
* Need original password to remove password from PDF.


* Require command-line expertise to some degree.


* No GUI for Mac.


* Not advisable for inexperienced users.


5 - LostMyPass Online PDF Password Recovery
As we can see, There are many online password cracking websites that ports the traditional password recovery technology into an online service with the rapid adoption of cloud computing. And LostMyPass is such an service aimed to provide easy-to-access solution to crack lost or forgotten password from PDF, Excel, Word, PowerPoint, 7z, Zip and RAR. It uses distributed computing sources (physical servers, virtual machines and personal computers) to accelerate the password recovery process.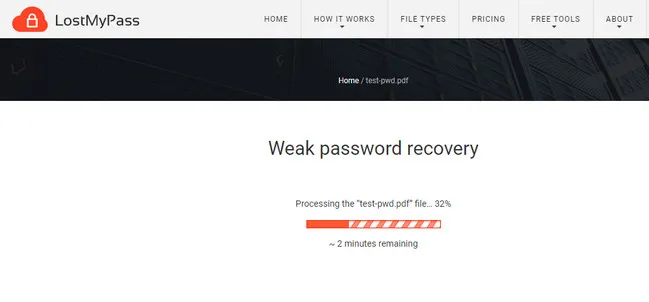 In addition, it is a platform independent service and there is no need to download any software to get started. You can use it on various devices unless Internet connection is established. Also, all the technical details are hidden from user. The only one step is to upload the encrypted PDF file into remote web server. And wait for the result. It may be free for weak password. Mostly, you have to pay for the service when the password is found.
Access Website Now!
Pros:
* Free for simple password.


* Very easy to use.


* Support Mac, Windows and Linux.


Cons:
* File size no bigger than 100MB.


* Possible data leak when the server is hacked.


* Pay on success for strong password (starting at $29).


Conclusion:
After using these five tools to recover open password for a test PDF file, we arrived at the conclusion that PassGeeker PDF Password Recovery for Mac is the easiest and most user-friendly tool for this task. If you have technical experience, it's worth trying Hashcat but only as an emergency solution. Eltima Recover PDF Password is a great tool but lacks hardware acceleration so it might not be suitable if your computer is already quite slow or if you need to recover PDF password quickly. If none of the desktop software works, then it is recommended giving a try for online LostMyPass online password cracking service.