Forgetting Windows 10 password can be a harrowing experience that immediately puts you into panic mode. And it's even worse if it's an administrator account because there's really no straightforward way to recover or reset the password without third-party tools or a relatively in-depth knowledge of command prompt. What do you do in such a situation? Thankfully, there is no dearth of tools when it comes to password recovery. You just have to know which one to pick because there are so many out there that aren't effective or too complicated for the average Windows user to figure out.
In this article, we'll cover two great tools for Windows 10 local account password recovery. The first one is for those who are technically adept or have some experience with non-GUI tools. The second is for anyone, and it works 100% of the time with any Windows version or password type. Let's look at both of them and how they work.
Part 1: Windows 10 Local Account Password Policy
Part 2: Recover Windows 10 Admin Password Using Hashcat
Part 3: Reset Windows 10 Password in 1 Min with PassGeeker
Part 1: Windows 10 Local Account Password Policy
Windows password policy has been invloving with the release of Windows OS. Initially, only local account password was available before Windows 8. And it is one of the most used password protection even in Windows 10. Other types of protection on Windows 10 include PIN, picture, Microsoft account and domain password. However, we only talk about local account password in this post.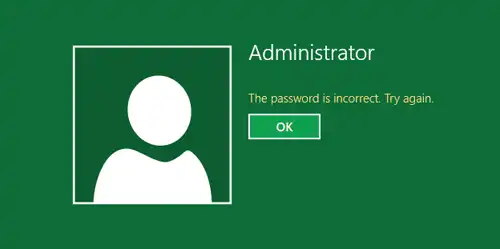 Local account password is a text string you input to unlock the computer and it is stored in a database file called SAM, short for Security Account Manager. SAM first converts the text into a hash value and store the password in an entry. So if you forgot the login password, you can either pull off the hash value and crack it to get the real password or simply remove the entry, thus the password associated with that account will be eliminated.
Part 2: Forgot Windows 10 Password? Recover Windows 10 Password Using Hashcat
If you knew password hashing and have used command line tools before, you can use Hashcat to recover Windows 10 admin password. Hashcat is the self-proclaimed world's fastest password cracker. It is an active product, which means updates keep coming on a regular basis. There's no formal tech support, but there's a large community of users who will be glad to help out in case you face any difficulties.
This example shows you how to use Hashcat to recover your Windows 10 administrator password:
Step 1: Open Command Prompt on your PC using a different account from the locked admin one.
Step 2: Install Hashcat using the following commands (type each line separately followed by Enter each time):
cd
mkdir hash
cd hash
wget https://hashcat.net/files_legacy/hashcat-2.00.7z
7z e hashcat-2.00.7z
./hashcat-cli32.bin -V
Step 3: Dump the hashes from your SAM into a text file with the following commands:
reg save hklm\sam filename1.hiv
reg save hklm\security filename2.hiv
Step 4: You will need to know the names of the hive files that have the password hashes. To dump them into a text file, use this command: lsadump:
sam filename1.hiv filename2.hiv
Step 5: Now save the hashes in a new text file using the following command: log win10pass1.txt
Step 6: You will now need to download wordlists, for which you can use RockYou, which has tens of millions of password possibilities. This is the real password recovery command for Hashcat:
cd
./hash/hashcat-cli32.bin -m 1000 -a 0 -o win10pass1.txt --remove win1.hash rock.dic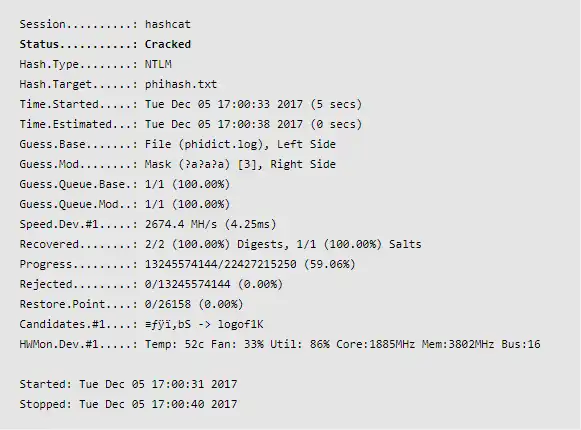 Naturally, if you don't have any experience with command line work, you may not be able to carry out this process accurately. There are too many variables to consider, so if you want to avoid it, why not try a reliable third-party proprietary software application that makes the job simple enough for a newbie?
Part 3: Reset Windows 10 Password with PassGeeker If Forgot Windows 10 Password
Hashcat is the recommended tool for password cracking and security analysis. But it is not the ideal tool to unlock a computer because it needs much more time to recover the real password if it was strong enough. Besides, it involves multiple commands to make it working. So the second suggestion is more appealling if Hashcat was not preferred.
PassGeeker Windows Password Recovery works differently from other password recovery tools because it simply resets Windows 10 password to blank. The password reset process is completed in seconds, even for strong password. That's the best part of it. There's no need to wait for hours or days for it to crack the forgotten password.
No fuss, no command line work and no additional tools required. It's all built into the application itself, and the user interface is extremely user-friendly for new users and experts alike. Here's how PassGeeker works to reset forgotten Windows 10 administrator password. All it takes is 3 simple steps:
Download Now
Download Now
Step 1: On a different PC, download PassGeeker from the official site and open the program after installation. Insert an USB stick or CD and hit the Burn button against the correct media type. The ISO file will automatically be acquired and burned to the USB or CD to create bootable password reset disk.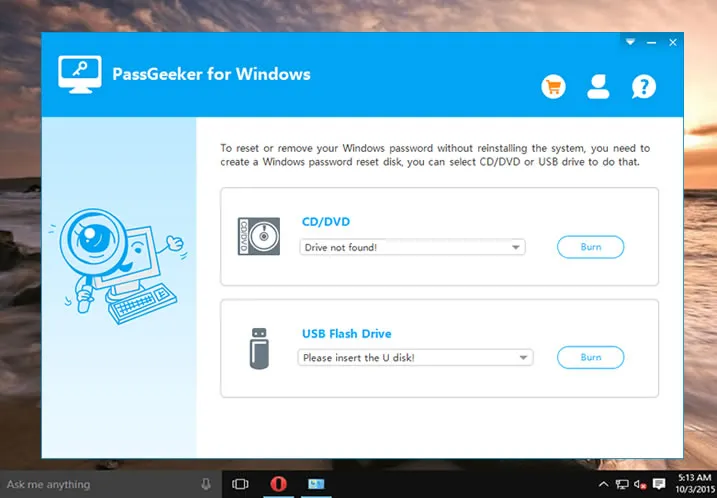 Step 2: Remove the media and insert it into the locked Windows 10 computer. Boot from the disk by pressing F2 or other special key shown on the screen to go to the BIOS menu and change the boot order. Save your changes, exit and allow the boot to resume.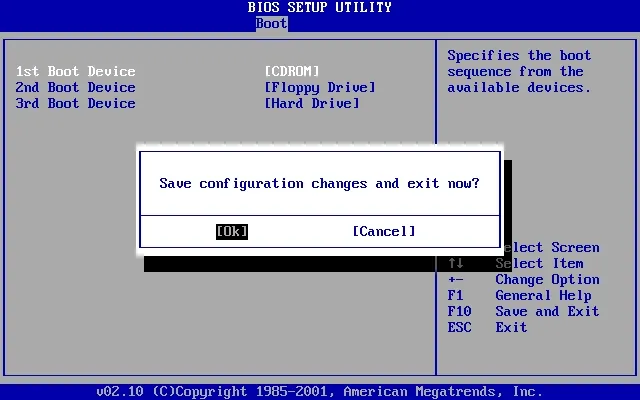 Step 3: In the PassGeeker window, choose your OS version (Windows 10) and the locked admin account user name.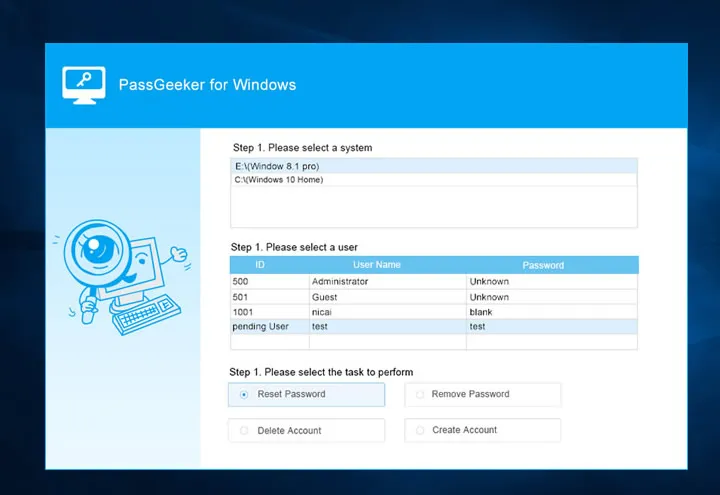 Step 4: Click on Reset Password option to instantly remove the forgotten password from Windows 10 PC and create a new password at the same time; and then remove the reset disk and click Reboot.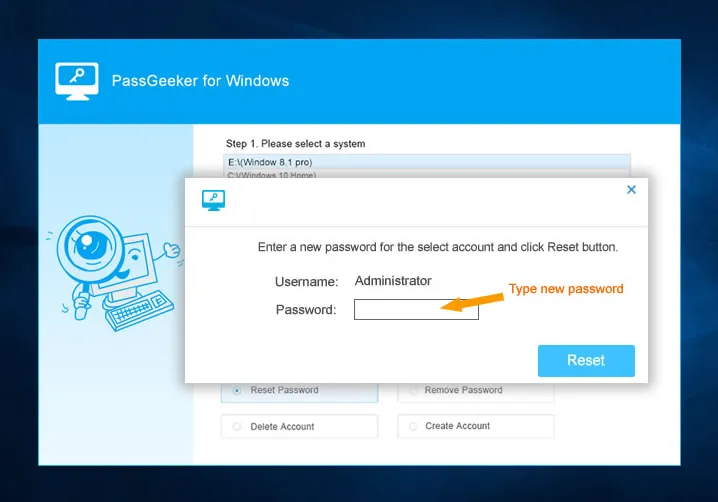 When your computer restarts, simply login with the new password. That's all there is to it. You can see why it's so appealing to first-time users. And the best part is that this reset disk or drive can be used over and over again on that computer whenever you forgot Windows 10 password.
Download Now
Download Now
Summary:
It is no longer scare thing when you forgot Windows 10 password. Most importantly, there is no need to reinstall Windows 10, which deletes all personal data in system drive. Hashcat and PassGeeker are the two preferred way to help you recover or reset the password efficiently. It is your own choice to select the right tools you like.