Microsoft announced that Windows 10 is the final version. So, no further version will be released in the future. This is where the need for Windows 10 activation steps in. It is especially for older Windows versions users as all the other versions except Windows 10 will soon become obsolete.
However, there is a little problem in this case. Once you update your PC OS to Windows 10, it will expire soon after the trial period of 30 days. In this guide, you will get some useful methods without requiring to download any added software for Windows 10 activation. Also, you will get the necessary product keys for free, which otherwise you have to purchase online for Windows 10 installation.
Method 1: Activate Windows 10 Free Automatically
With this technique, you are free from purchasing the relevant product key to activate Windows 10 operating system. So, let's see how to activate Windows 10 automatically from below given instructions:
Step 1: Copy the activation code from the this link.
Step 2: Tap "Start" menu and find "Notepad" from search dialog and open it. Paste the code from the link given above. Then save the file as "ActivateWindows10.cmd". The file name must be ended with ".cmd". Else, the code will not run and will open as a normal textual document.
Step 3: When you are done saving the batch file, right tap on it. Next, tap on "Run as Administrator". Then it will begin CMD and automatically implement some codes.
Step 4: Now, wait till this code gets linked to the KMS server. Once the connection is established, Windows 10 is activated automatically.
Method 2: How to Activate Windows 10 with CMD
In case you don't know how to activate Windows 10 automatically, apply the manual activation method. It is one of the simplest solutions as you only have to follow the on-screen instructions for Windows 10 activation in Command Prompt.
Step 1: Tap on "Start" menu and search for "Command Prompt" from Start dialog. You can also find it from "Cortana".
Step 2: Next, right tap on "Command Prompt" followed by clicking on "Run as Administrator". An alert dialog will pop up. Ignore that prompt and tap "Yes".
Step 3: Now, add the quoted command "slmgr /ipk yourlicensekey" in the CMD dialog. (i.e. put the key in the CMD dialog that you copied from the above product keys section as per your device's Windows version). Next, hit "Enter".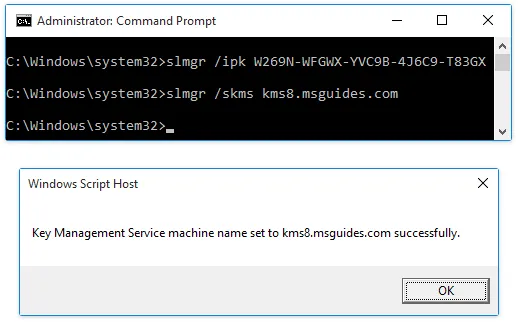 Step 4: Then give some time for the code to run. This will take just a few seconds to execute completely. Next, you have to put the quoted command "slmgr /skms kms8.msguides.com" in CMD dialog. Doing this will link you to KMS server.
Step 5 : When connected successfully, put the command "slmgr /ato" in CMD. Now, a new message will prompt confirming Windows 10 is activated successfully .
Apart from the above methods, there are several other possibilities of activating Windows 10. So, let's have a look at those points as well.
Method 3: Activate Windows 10 for Free Using KMSpico Activator
There are several Windows activators emerging regularly and are readily available on the internet. However, there lies a reliability issue as most of these activators are developed by unknown software developers with no official authenticity in the created tool. Secondly, such activators are likely to contain viruses which after the installation are certain to cause a system breakdown. Thirdly, such activators may not be compatible to work on your device or help you with a relevant Windows version.
So, in order to avoid such shortcomings, here is the best of all activation tool that works for all Windows versions without hassle - KMSpico. Also, this by far is the most highly-rated activator as per the users' preference.Well, if you already have the duplicate Windows 10 installed on your computer, as provided by Microsoft, no need to activate the above tool. Else, download the free Windows 10 version from this link. Now you have to use KMSpico to activate Windows.
Step 1: Stop or turn-off antivirus program on your PC before activation completed.
Step 2: Then download and install KMSpico 10 Final for your Windows 10 PC from here.
Step 3: Now, open this software activator through Wirnar.
Note: If you don't have it installed in your PC already, get it from here. However, this app is a paid one once its trial period is over.
Step 4: After opening KMSpico, install it. Next, navigate to the installation directory of that Windows activator.
Step 5: Now, run KMSeldi.exe and tap on Red Button. Open this software activator through Wirnar. The software will take care of the rest, and once you restart your PC, you will see that Windows is now activated.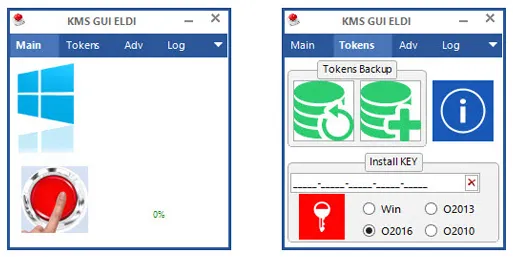 Method 4: Method 4: Activate Windows Using Microsoft Toolkit
Microsoft Toolkit is another reliable option after KMSpico as per the users' comments. A plus point of this tool is that it can be used to activate Microsoft Office versions as well. The same is for all the Windows versions including Windows (8/8.1, 7, 10) and Windows Vista. Let's check the step-wise instructions to activate Windows 10 with Microsoft Toolkit:
Step 1: First of all, temporarily disable or force stop your computer's antivirus program. Now, find "Control Panel" from the Windows search dialog and open it.
Step 2 : Then go to "System and Security". From there, go to "Change User Account Control Settings" and check the "Never notify" option.
Step 3 : Next, download the latest version of Microsoft Toolkit from any of the given links. Install and run the downloaded software program. Now activate Windows 10 by clicking on Windows icon in Microsoft Toolkit.
Step 4 : Eventually, tap on the "Activation" tab and tap further on "EZ-Activator". Just in some seconds, your Windows 10 copy will be activated.
Note: In case any issue occur while using Microsoft Toolkit, try activating Windows 7, 8 or 8.1 to your PC. Then upgrade the Windows version to Windows 10.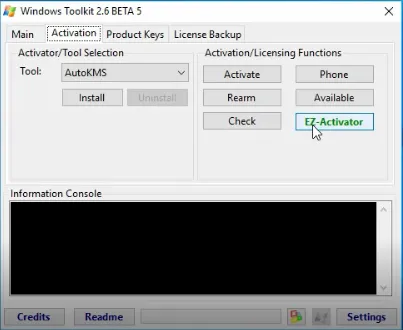 Method 5: Activate Windows 10 with Product Key
Mic s for all the Windows versions including Windows (8/8.1, 7, 10) and Windows Vista. Let's check the step-wise instructions to activate Windows 10 with Microsoft Toolkit:
Step 1: Open "Settings" ->Update & Security.
Step 2: Then tap "Activation" and click "Enter Product Key".
Step 3: After that, put your purchased product key and tap "Enter".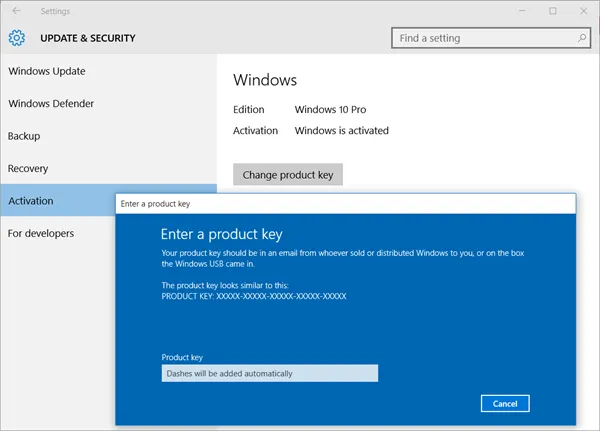 Just make sure to have a proper internet connection to your PC as this process only works online. Then Windows 10 will activate within seconds.
Note: If you want to install Windows 10 freshly on your PC, you will be required to enter the product key of your dedicated Windows version for re-installation. Simply, enter the product key and the installation is done in no time.
Conclusion:
Well, these are the proven ways of activating Windows 10 successfully without having to purchase the Windows 10 product key. You can go for any desktop based software app as well. However, each software has its own limitations as well. So, the last method is the best and safest way to implement Windows 10 OS activation.