Can you still upgrade to Windows 10 from Windows 7 for free? This is one of the most widely asked question among Windows users. As we know, Microsoft officially released Windows 10 four years ago and Windows 10 is considered as a revolution over Windows 8 and Windows 7. Those who were still using Windows 7 version at that time, Microsoft offered 1 year free upgrade from Windows 7 to Windows 10.
Although the upgrade time was then extended, the company closed the offer quite soon. Until now, many Windows users are still wondering whether there is a way to get free update offer. The answer here is yes. In July 2019, I tried to installed Windows 10 on my desktop and I was successfully activated with my old Windows 7 key that I bought eight years ago. I gave it a shot and the magic appeared the key was alive. Although I could not ensure that this method works for everybody, it's no harm in trying.
Windows 10 Hardware Requirements
Before proceeding to actual step of upgrading Windows 10, you should first check whether your PC meets the minimum hardware requirements. If not, then keep running the current Windows OS. Check the table in below, which is the minimal hardware requirement for running Windows 10.

For a successful upgrade to Windows 10, your computer needs to be running the latest Windows 7 version, in this case, it will be Service Pack 1. If you don't have this version installed on your PC, you can get it from here.
Create a Full backup of Windows 7 PC before Upgrade
Microsoft has been working hard to improve the upgrade ability in Windows 10, but there are still chances that the failure of the upgrade happened. So to avoid problems, make sure to create a backup of the current OS so that you can revert back if anything goes wrong. Fortunately, you can use a System Image Backup tool in your Windows 7 computer to create a backup.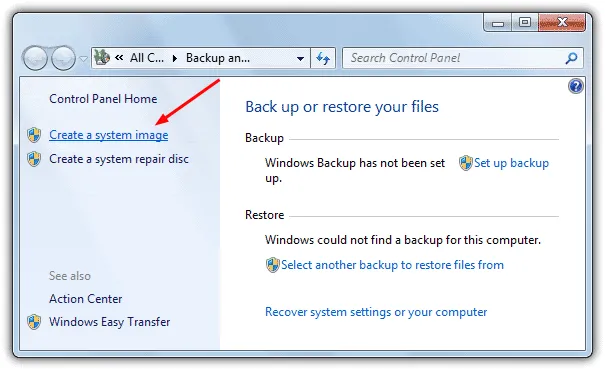 In-Place Upgrade from Windows 7 to Windows 10 Using Media Creation Tool
Since the release of Windows 10, Media Creation Tool has been the default to upgrade and install Windows 10. It offers an in-place upgrade from current Windows 7 to Windows 10. So if you chose this method, all your current data, including installed apps and customizable settings will automatically be transferred to Windows 10. That sounds simple, right! Start the update process by following these steps below.
Step 1: Get a copy of Windows media creation tool and then run the software on your Windows 7 PC
Step 2: You will have options, but you should only pat attention on the first option "Upgrade this PC now". The process can take minutes, depending on the internet speed as it needs to download Windows 10 files.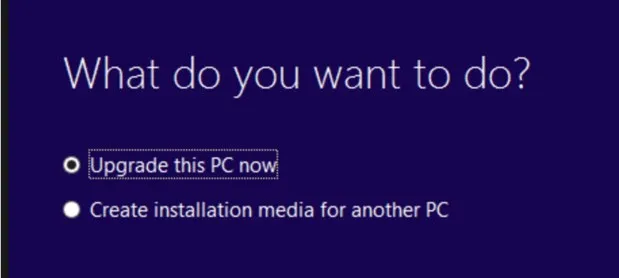 Step 3: If your computer is running on a cracked Windows version, you will be asked for a product key. Otherwise, you will not be asked for a licensed key.
Step 4: When the download is completed, select what you want to keep, like only data, or apps and data. By default, data and apps are the selected options.
Step 5: Click on Next and the upgrade process from Windows 7 to Windows 10 will get started. Your computer might restart several times during the process.
If everything is fine, you will be greeted with a Windows 10 welcome screen.
Create a Windows 10 Install USB to Upgrade from Windows 7 for Free
Another guaranteed way, but a little complicated to upgrade from Windows 7 to Windows is to manually install Windows 10 through a bootable disk. All you need is to download the Windows 10 ISO file from the official Microsoft website and then flash this bootable drive on a new computer using Windows 7 product key.
Step 1: Currently, you can download the latest Windows 10 ISO with Media Creation Tool, Rufus 3.6 and Heidoc Windows ISO Download Tool. In here, we will take Rufus as an example. Now visit Rufus website and download the .exe file.
Step 2: Open rufus. exe file and click the drop-down list of Select item and you will see the option called Download.
Step 3: Once you click on the Download option, the software starts to download a script to download Windows 10 ISO from remote server. From there, select the Windows 10 version, release. Edition, Lanaguage and Architecture.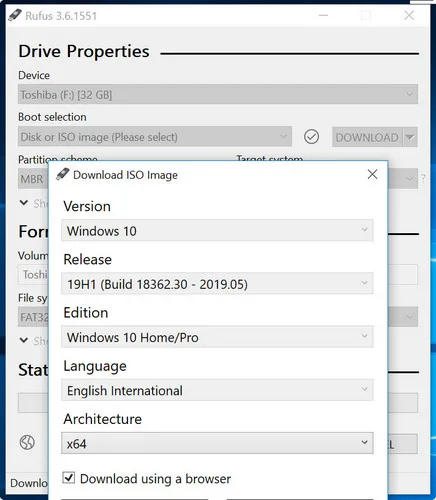 Step 4: When all the selections are completed, it will starts fetecing Windows 10 ISO from Microsoft server. You can also download the ISO file from a web browser when you tick the option "Download using a browser" at the bottom of the pop-up window. We suggest using a Internet Downloader app or extension because it is much faster.
Step 5: Now find the ISO image and burn the file to a USB to make it bootable. There are a couple of amazing tools can do this like Rufus itself or UUByte ISO Editor.
Step 6 : Write down the Windows 7 Product key (to be used in later for Windows 10 activation ) and boot the computer from Windows 10 install USB. Then follow the prompt to install Windows 10.
This is an easy method to upgrade your PC to Windows 10 version. I advised you to stay away from trying illegal methods like KMSPico Windows 10 Activator. However, in case the Product key is not correct, you'd better buy a valid key for Windows 10.
After buying a Windows 10 key to activate your computer, Microsoft will usually send updates to you. In a statement, Microsoft said that Windows 10 could be the last version, so there will be many updates and new services from the company.
Conclusion:
Upgrading your Windows 7 to Windows 10 version in 2019 is not too difficult. If you have a valid Windows 7 Product key, you can directly upgrade your PC to the latest Windows version without losing any data. Otherwise, you can choose to create a bootable USB disk with the Windows 10 inside and then upgrade your PC or other devices manually through BIOS menu.