If you want to reset forgotten password on a Dell laptop running Windows, you may think that a full installation or a factory reset is required. Far from it, there are several ways to reset a password for any Windows machine whether it is networked or standalone. This article shows you three ways to reset Dell laptop or desktop computer password without disk.
Part 1: Reset Password by Network Administrator
Part 2: Reset Dell Laptop Password via Microsoft Website
Part 3: Reset Password on Dell Laptop without Disk
Ask Network Administrator to Reset Dell Laptop Password
If it's a networked computer, it's better not to attempt a password reset on your own. There are specific domain password policies set by the administrator, which could cause problems if you try and do it yourself. Rather, approach the admin and ask them to change the password for that locked computer. If you're the administrator and one of the users has forgotten their password, you can reset it by following the steps below:
Step 1: In your computer, go to Control Panel and User Accounts.
Step 2: Select User Accounts again and click on Manage Another Account. In some versions of Windows, it will be the Active Directory Users and Computers.
Step 3: Type in the admin password for the domain when prompted.
Step 4: Go to the Users tab on the left panel and then search for the user name in the main panel. Click on the name.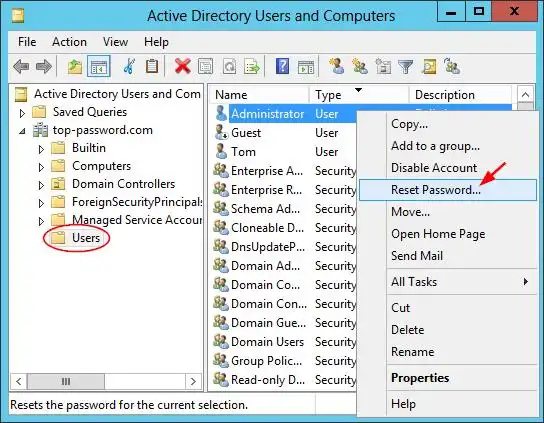 Step 5: In the menu shown, choose Reset Password and set a new one. Check the box to unlock the user's account and specify if you want them to change it on the next login attempt. Click OK to confirm the changes and provide the new password to the user.
Cons

:
* Only valid for computer connected to local network.


* Super administrator password needed.


How to Reset Password on Dell Laptop Online (Windows 10 & 8)
A Microsoft account can be used to log into Windows 8 or Windows 10. It is the same account that you use for Skype, Xbox and other Microsoft products. If that's the one for which you forgot the unlocking password, then it's easy to reset it online. You must have access to the registered phone number, email ID or Skype ID in order to use this method since an authentication code will be sent that you need to enter to reset the password. Follow the steps shown below:
Step 1: Go to the Microsoft account password reset page on another computer or mobile device.
Step 2: Enter the reason for wanting to change the password and confirm. Enter the account or number associated with that account and confirm again.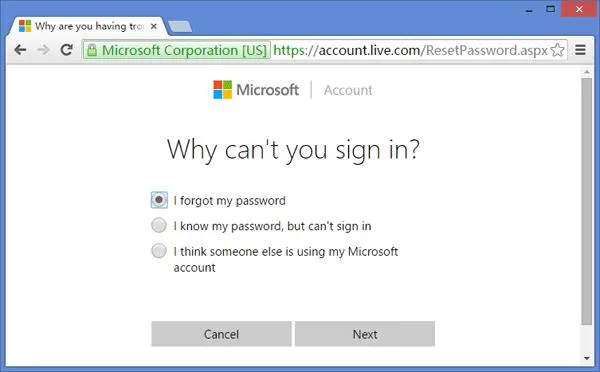 Step 3: Get the authentication code and copy it. Type it into the box provided and confirm.
Step 4: Reset the password by entering it twice and set a hint question and answer. Confirm the changes.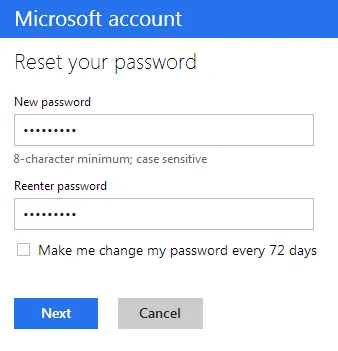 Step 5: You will now be able to login Dell laptop using the new password. The only problem here is that your laptop needs to be connected to the Internet. Since you changed the password online, that change needs to be updated to your computer. So if you're offline, you can't use this method. In that case, use the foolproof method described below, which works 100% of the time on all types of Windows accounts.
Cons

:
* Only for Sign in using Microsoft Account.


* Not support for Windows 7, Vista and XP.


* Internet access should be granted on locked Dell computer.


How to Reset a Dell Laptop Password without Disk (Windows 7/8/10)
To be honest, password reset disk is the best way to unlock a locked Dell laptop because it is 100% working with least time consumed. Even you forgot to create a such a disk in advance, don't worry! You can use third-party tools like PassGeeker to make a reset disk afterwards. This disk will contain the ISO image and the boot files required to boot up a Dell laptop. The program then allows you to boot into your computer and instantly remove the user password, giving you immediate access to your locked computer.
PassGeeker Windows Password Recovery is one of the best password tools for Windows. It works with all versions of the OS starting from Windows XP, and it can reset local account password as well as Windows Server securely and efficiently. Please follow the process as outlined in the section below:
Download Now
Download Now
Step 1: On the second computer, download PassGeeker software and install it. Then insert a USB drive or physical disk (DVD/CD) and launch the program.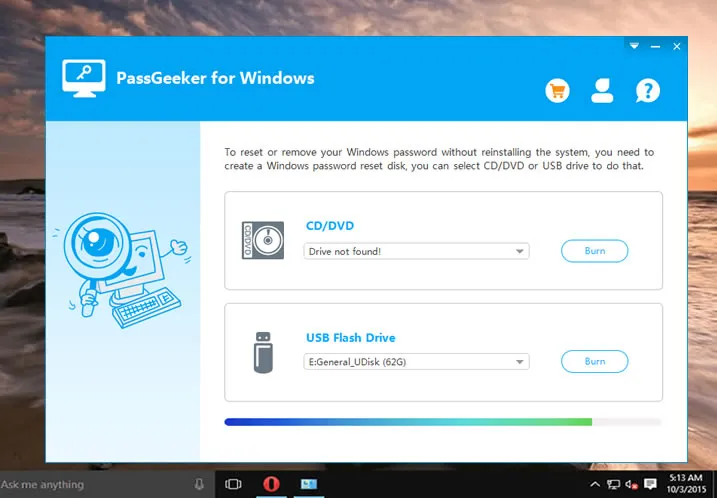 Step 2 : Click the Burn option next to the corresponding storage medium. The password reset disk will be created in a few minutes. In this step, the software will automatically acquire the required ISO file from and burn it to create bootable media to unlock the Dell laptop or desktop computer.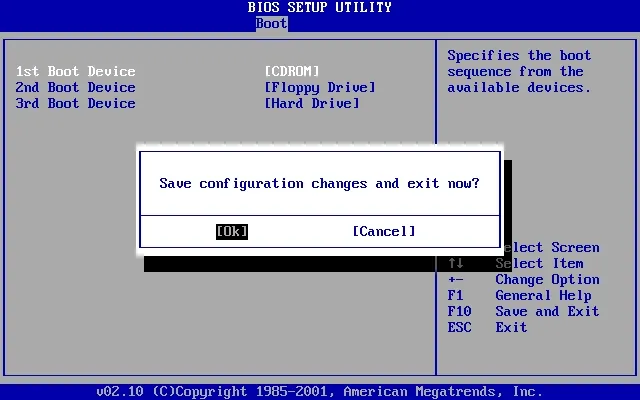 Step 3 : Next, remove the reset disk from the second computer and use it to boot up the locked Dell laptop. To do this, start it up and click F1, F2 or Del (it will usually be displayed) to go to the BIOS Setup Utility. Here, change the boot priority to the external disk you created.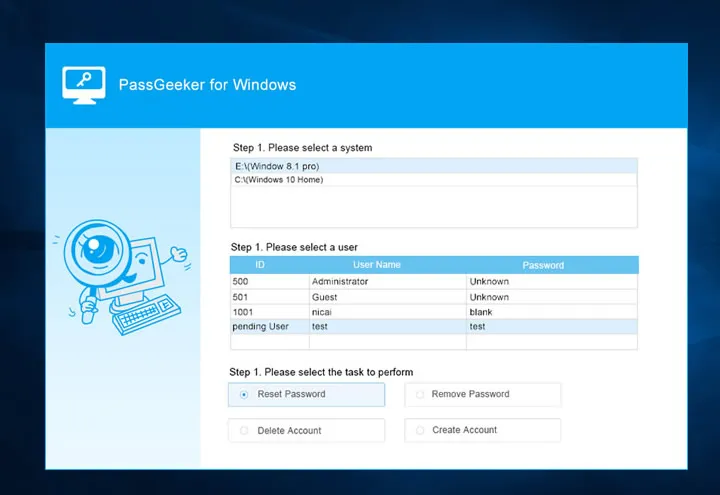 Step 4: When you save the settings and resume the boot-up process, it will boot into PassGeeker interface, where you can click on Reset Password button after choosing the correct Windows version and user account. Finally, click Reboot after removing the reset disk, and you will be able to access your Dell laptop by using the new password.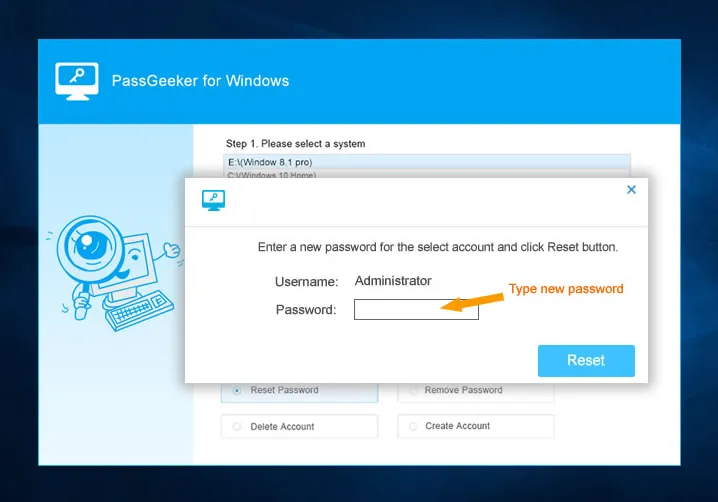 The reason this software works so fast to bypass the account password is that it uses an advanced technica to blank password instead of recovering it. The recovery process can be very prolonged, and you won't be able to use your laptop during that time. But thanks to PassGeeker, you can regain access in minutes instead of hours or even days of waiting.
Download Now
Download Now
Final Thought
The current technology has been matured enough and the task such as resetting Windows password becomes much easier to go through without the need to reinstall Windows OS. It will imporve the user experience dramatically as the process could be finished within 5 minutes and no damage to the computer. Please pick up one method from the list according to the computer state.